Dataverse train-the-trainer event in September
Summary
In September, DANS will be organising a train-the-trainer event on using Dataverse as an archive or discovery platform. The event is part of the CESSDA training activities and targeted at data stewards and data managers working at (CESSDA) archives or institutional repositories using Dataverse.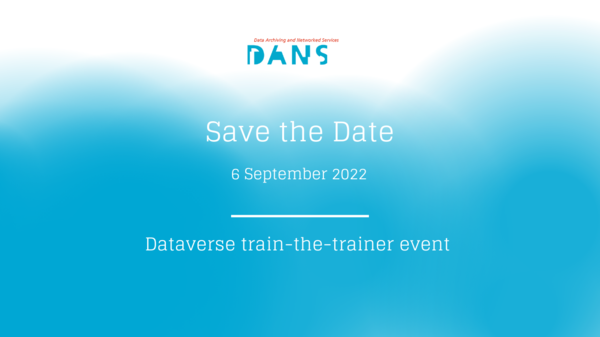 Description
We especially invite professionals providing training in the use of Dataverse as an archive or discovery platform to join us. After a short overview of Dataverse as a tool to archive and discover data, DANS speakers Ricarda Brauckmann and Kim Ferguson will guide participants to create their own workshop to train researchers in the use of Dataverse.
We will provide example materials from Dataverse user guides, as well as from the CESSDA Data Management Expert Guide that trainers can re-use to tailor their training to their specific audience. Example workshop outlines will be discussed and we will spend time on practical guidance in organising your event to effectively engage your audience.
The registration is open now: https://dans.knaw.nl/nl/agenda/dataverse-train-de-trainer-event/
Preliminary programme:
10:30-10:45 Welcome
10:45-11:15 Background on Dataverse
11:15-11:20 Break
11:20-12:05 Session 1: Example materials and outlines
12:00-13:00 Lunch Break
13:00-13:45 Session 2: Breakout session to work on your own workshop design
13:45-13:50 Break
13:50-14:35 Session 3: Planning and troubleshooting
14:35-15:00 Wrap-up
Event details
Start time
Tue 6 Sep 2022 10:30 CEST
End time
Tue 6 Sep 2022 15:00 CEST
Audience
Archives and data repositories
Trainers