Modeling change: A gentle introduction to cross-lagged and latent growth curve approach
Summary
We would like to invite you to join us for the second free, two-day statistical course offered as part of the COORDINATE project. The goal of COORDINATE is to mobilise the community of researchers and organisations to advance the coordinated development of the birth cohort and survey research on children's wellbeing in Europe. CESSDA ERIC is one of the beneficiaries in the project.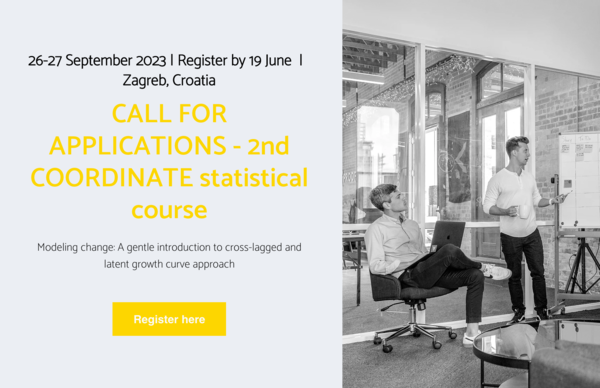 Description
What is the course about
The statistical course aims to provide practical knowledge on analysing longitudinal data, focusing on: longitudinal structural equation modelling, cross-lagged mediation analysis, unconditional and conditional latent growth curve analysis. Basic understanding of regression and factor analysis is required.
A dataset will be provided for exercises, but participants can also use their own data. JASP (with lavaan syntax) and IBM SPSS AMOS statistical software packages will be used in the course.
Who is it for
The course is open to academic researchers from PhD students to full professors, policy practitioners, and other researchers or analysts working in the EU countries and associated states. A limited number of bursaries (up to €500) to support travel and accommodation will be available to selected participants. Additionally, two lunches and one dinner will be provided for all attendees.
About the lecturers
Mitja Ružojčić, PhD is post-doctoral researcher at the Department of Psychology at the Faculty of Humanities and Social Sciences of the University of Zagreb.

Aleksandar Štulhofer, PhD is full professor of Sociology at the Faculty of Humanities and Social Sciences of the University of Zagreb.
Deadline
The deadline for the application submission is 19th June 2023.
Contact
More information is available on the project website: https://www.coordinate-network.eu/event-details/call-for-applications-2nd-coordinate-statistical-course-1

If you have any questions, please contact data.archive@ffzg.hr
Event details
Start time
Tue 26 Sep 2023 00:00 CEST
End time
Wed 27 Sep 2023 00:00 CEST
Type
Face-to-face workshop
Audience
Researchers
Research funders and policy makers

Organiser
Croatian Social Science Data Archive
Location