ISSDA webinar: Data management basics for Social Scientists
Summary
Join Data Manager Jenny O'Neill for a Summer webinar: Data management basics for Social Scientists. Webinar is organised by the Irish Social Science Data Archive (ISSDA).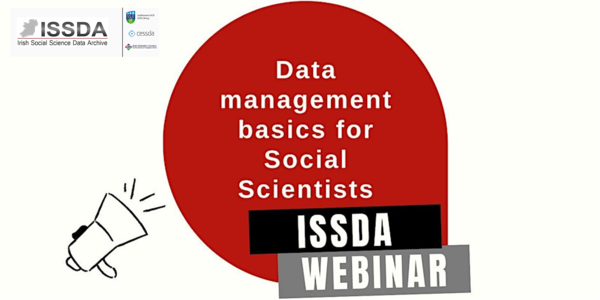 Description
ISSDA is Ireland's leading centre for quantitative data acquisition, preservation, and dissemination. Based at UCD Library and funded by the Irish Research Council, its mission is to ensure access to quantitative datasets in the social sciences.
In this one hour webinar, ISSDA's Data Manager Jenny O'Neill, will introduce you to writing a data management plan, documenting and organising your data and sharing your data at the end of the project.
This webinar is for anyone with an interest in data management, social science research, publishing and sharing research data and reusing existing data.
During this free online webinar we will have an interactive presentation with time for questions at the end.
Event details
Start time
Thu 22 Jun 2023 12:00 CEST
End time
Thu 22 Jun 2023 13:00 CEST
Audience
Researchers
Research libraries

Organiser
Irish Social Science Data Archive (ISSDA)