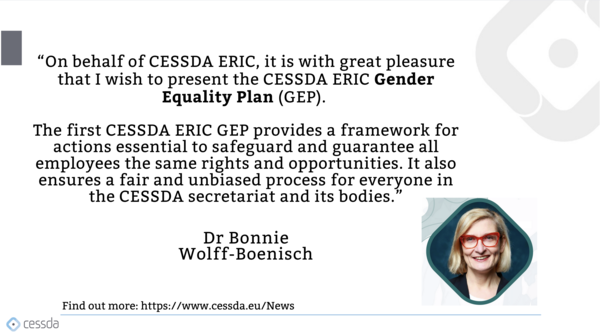 Director's statement on the Gender Equality Plan
Mon 7 Nov 2022
CESSDA ERIC aims at embedding gender equality principles in its organisational culture. This Gender Equality Plan (GEP) describes a set of commitments and actions aiming to promote gender equality through institutional and cultural change.
CESSDA Director, Dr Bonnie Wolff-Boenisch, shares her thoughts:
"On behalf of CESSDA ERIC, it is with great pleasure that I wish to present the CESSDA ERIC Gender Equality Plan (GEP).
The first CESSDA ERIC GEP provides a framework for actions essential to safeguard and guarantee all employees the same rights and opportunities. It also ensures a fair and unbiased process for everyone in the CESSDA secretariat and its bodies.
CESSDA ERIC, as a multinational research infrastructure, has the responsibility to grant an open environment which stimulates personal and professional growth, where individuality and originality are valued.
The GEP was developed by CESSDA's Project Management team and is built on an analysis of internal policies and processes, and available personnel data at the CESSDA Main Office. The team also carried out an analysis of relevant national legal and policy documents of the host country, Norway. As a result, a set of measures and indicators have been listed to improve the gender equity in our organisation. These should also encourage institutional and cultural change in line with existing EU guidelines and best practices adopted by other organisations.
At its core, GEP is a set of commitments and actions. In 2020, the European Commission committed to achieving a Union of Equality1. The EU Gender Equality Strategy2 presents policy objectives and actions "to make significant progress by 2025 towards a gender-equal Europe". In the research sector, specific action was identified to overcome structural barriers to gender equality and persisting gender gaps. The Commission addresses these barriers through several action points, among which is the main funding instrument (Horizon 2020 and Horizon Europe).
In Horizon Europe, the Commission sets gender equality as a crosscutting priority and introduces strengthened provisions:
having a GEP has become an eligibility criterion for certain categories of legal entities from EU countries and associated countries;

the integration of the gender dimension into research and innovation content is a requirement by default;

increasing gender balance throughout the programme with a target of 50% women in Horizon Europe related boards, expert groups and evaluation committees, and gender balance among research teams has been set as a ranking criterion for project proposals.
I strongly believe that equity and diversity are essential components of scientific quality and can be a major resource for scientific excellence. I highly endorse this initiative and affirm that CESSDA ERIC is committed to the successful implementation of this plan.
Sincerely,
Bonnie Wolff-Boenisch,
Director of CESSDA ERIC"
More information:
1 https://ec.europa.eu/commission/commissioners/2019-2024/dalli/announcements/union-equality-first-year-actions-and-achievements_en
2 https://ec.europa.eu/info/policies/justice-and-fundamental-rights/gender-equality/gender-equality-strategy_en

More information