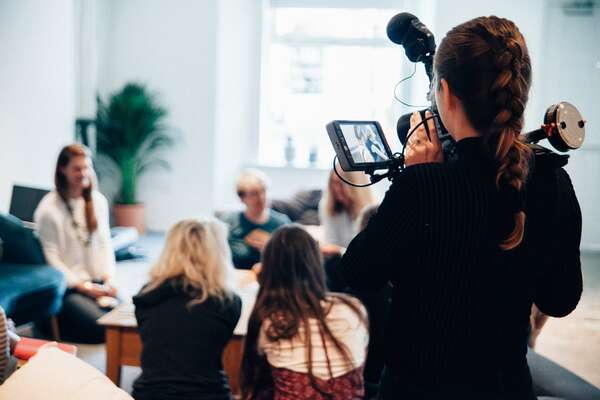 Lights! Camera! Action! Teach! A Handbook for Making Educational Videos
Tue 6 Dec 2022
Communications in the post-COVID age means being proficient in digital communications. This means everything from online meetings and presentations to YouTube videos, podcasts and social media. This book is a beginner's guide to creating educational videos of all types.
However, the new normal of communicating via online meetings and recording webinars that will be online for years to come present us with new technical challenges to overcome for our online communications to be a success.
Poor quality audio can prevent your audience from understanding you, and weird camera angles can distract them from your key messages. Learn how to improve your online presentations, videos and podcasts by downloading CESSDA's new, free e-book, Lights! Camera! Action! Teach! A Handbook for Making Educational Videos.
However, the book is not just about presentations and meetings. Do you want to learn how to make engaging videos with the best quality audio? This book is a beginner's guide to creating educational videos of all types.
The advice is helpful for anyone working with audio, video, and promotion on social media.
Whether you want to:
create a tutorial video to guide users through a tool

make an educational video on a topic such as data protection, or

record a live talk given by one of your experts.
Follow the video creation process
The handbook follows the video creation workflow and each chapter is designed to be a stand-alone module. That means you can read the book from start to finish to understand the entire video making process. But you don't have to. You can dip into chapters as needed to learn exactly what you need to solve your specific challenges.
Each chapter has sections to help you easily identify specific topics. Not only do the chapters have tips and suggestions, but the appendices are filled with supporting documents. The references section has dozens of hyperlinks to external videos for further information.
Each chapter starts with an overview of what you should know by the end of the chapter, making it that much easier to know if the content inside is right for you. At the end of the chapter, you can test what you've learned by answering questions that will help get you thinking about your recording.
One chapter at a time
Chapter one reviews the benefits of making educational videos and why YouTube is an effective platform for your content. The chapter starts off with some practical questions you should be able to answer before you start your project. It also gives project management and time management advice, which is useful if you're trying to make videos on a budget and to a deadline.
Chapter two helps you to structure your educational video. Storyboards help you visualise your final video. it Find out whether you need a script or not, and see the example script. You'll also find a checklist to help you assess if you are ready to move to the pre-production phase or not.
Chapters 3 to 9 focus on the pre-production, production, and post-production phases.
Chapter three explains the importance of planning and preparation before you start filming or recording. Its title is a very clear alliteration: "Proper Pre-Production Preparation Prevents Poor Performance". It reviews pre-production strategies to help you create effective educational videos. Audio is the most important part of every recording. Creating a high-quality audio recording is the focus of chapter four.
Chapter five is all about recording videos. How to get the best look no matter what sort of camera you are using. How to set up your camera to look great and how to turn your storyboard drawings into a video.
Chapter six is a great resource for those who plan to use editing software to create a more polished final product. There is practical advice on bringing audio and video together in the editing process, adding special effects, adding music and tips on the best ways of producing and uploading your video to YouTube.
Webinars are the focus of chapter seven. You will be guided through the initial stages of getting a webinar set-up and ready to promote to interested parties on social media.
Chapter eight provides information and tips on how to promote your content on social media. By the end of the chapter, you will have learned about the various challenges of social media and how to effectively use the algorithm and the demographics that you will find on these different platforms.
Finally, chapter nine explains the YouTube copyright options you'll have when uploading content to YouTube. You'll understand your license options, how to cite others' Creative Commons works and licensing promotional materials.
Download your free copy today
Whatever your audio visual needs, this free ebook is the perfect way to help you find your first footing as a director of online content.
You can read the book online on Zenodo or download your free copy as a .pdf.
Watch the 1min video on YouTube.
More information:
by Kristi Winters and Eleanor Smith