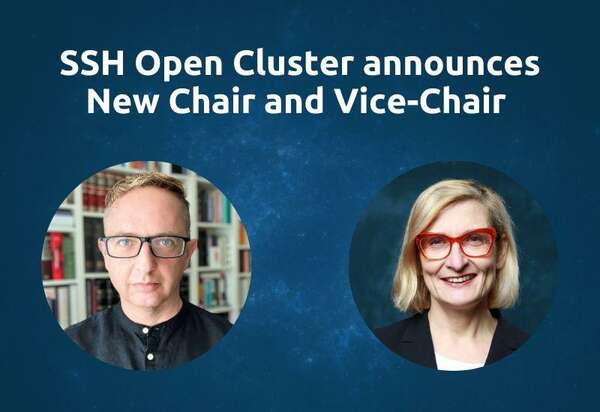 SSH Open Cluster announces New Chair and Vice-Chair
Fri 16 Dec 2022
We are happy to announce that the ERICs have elected the Chair and Vice-Chair to lead the SSH Open Cluster in the year 2023!
The new Chair is Dr Toma Tasovac, the President of the DARIAH ERIC Board of Directors, and he will work together with the new Vice-Chair Dr Bonnie Wolff-Boenisch, the Director of CESSDA ERIC.
"I am delighted by the opportunity to serve as Chair of the SSHOC Governing Board", said Dr Toma Tasovac. "I look forward to working together with Bonnie and the rest of the Board on strengthening our communities and championing collaboration between research infrastructures in the Social Sciences and Humanities."
The new Chair and Vice-Chair are the first to lead the Social Sciences and Humanities Open Cluster's collaboration after the formal ending of the SSHOC project. They will remain in office for one year. Both serve on a voluntary basis and represent the Cluster toward external parties on behalf of the Governing Board. The Chair will coordinate the Cluster communication with bodies such as the EC, ESFRI, ERIC Forum, or EOSC Association.
"I am pleased to support the Chair and the Governing Board and help to preserve the community and the knowledge sharing which was built in the SSHOC project", said Dr Bonnie Wolff-Boenisch.
Since the official end of the SSHOC project, the Governing Board, composed of the 5 ESFRI Landmarks, CESSDA, CLARIN, DARIAH, ESS and SHARE, has been meeting regularly to discuss and shape the post-project collaboration. This work has resulted in SSH Open Cluster Rules of Procedure, a procedural document which will set the basics of the future collaboration model.
In the upcoming months, the Governing Board will send invitations to ESFRI Projects from the Social & Cultural Innovation area to join the Board. The first official meeting with the new line-up is planned for February 2023. The first post-project meeting of the Cluster should be held in April 2023, with a wider community.
More information