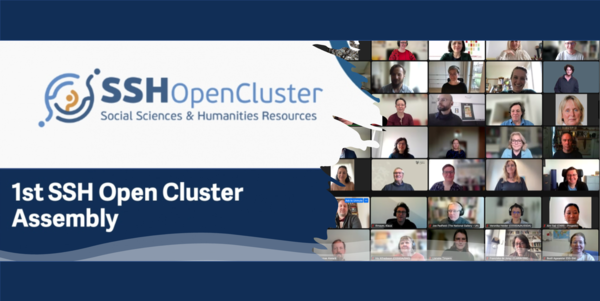 SSHOC Continues to Build Stronger European SSH Community: Highlights from the 1st SSH Open Cluster Assembly
Tue 9 May 2023
The SSH Research Infrastructures organised a Cluster Assembly on April 24th, 2023, which marked an important milestone since the SSHOC project ended. The event attracted 70 participants from funding agencies, research institutions, project partners, and all ESFRI Landmarks and Projects from the Group Social and Cultural Innovation.
SSHOC Cluster in the European Research Area
The SSH Open Cluster Chair Toma Tasovac (DARIAH), gave an introduction positioning SSHOC Cluster in the European research area. The Vice-Chair Bonnie Wolff-Boenisch (CESSDA), shared the activities planned during the project and highlights of what has been done in the past year since the project ended. The timeline included the coordination of common strategy and ongoing activities, specific tasks, as well as the tasks to be performed by individual RIs.
SSHOC Value Proposition and Marketplace
Highlighting the value proposition of the SSH Open Cluster, and the opportunity it brings to the members, Martina Drascic Capar (CESSDA), presented the rules of procedure and formats of further working together.
By focusing on contextualising solutions to research problems, Matej Durco and Laure Barbot (DARIAH), shared the SSHOC Open Marketplace Sustainability Model and its current status, emphasizing the importance of continued efforts to ensure the sustainability of the SSH network.
Science Clusters
The Cluster Assembly also featured Franciska de Jong (CLARIN), who presented the current status of collaboration with the five Science Clusters. The second part of the meeting was reserved for discussons on the results of the SSHOC project, current SSH landscape, and future expectations.
Main Message
The main message of the meeting was to reinforce the importance of collaboration and the need for continued efforts to ensure the sustainability of the SSH Open Marketplace and the SSH network. Participants were re-invited to join officially by signing the Memorandum of Understanding (MoU).
The Assembly was successful in bringing together a diverse group of participants to discuss the future of the SSHOC and its impact on the research community. The next SSH Open Cluster Assembly promises to be a productive gathering of members focused more on joint activities and will be held in October 2023.
More information