Towards Sharing Social Media Data for Research Purposes - A CESSDA Survey on Researchers' Attitudes
Thu 13 Jul 2023
In 2021, CESSDA initiated a survey on the experiences, motivations, and requirements of researchers working with social media data (SMD). This initiative led to the article `Sharing Social Media Data: The Role of Past Experiences, Attitudes, Norms, and Perceived Behavioral Control´, published in Frontiers in Big Data.
The paper is the product of CESSDA project on Widening the Parameters for New Data Types led by the German archive GESIS. CESSDA national Service Providers from Croatia (CROSSDA), The Czech Republic (CSDA), Greece (EKKE), and Switzerland (FORS) joined this activity as well.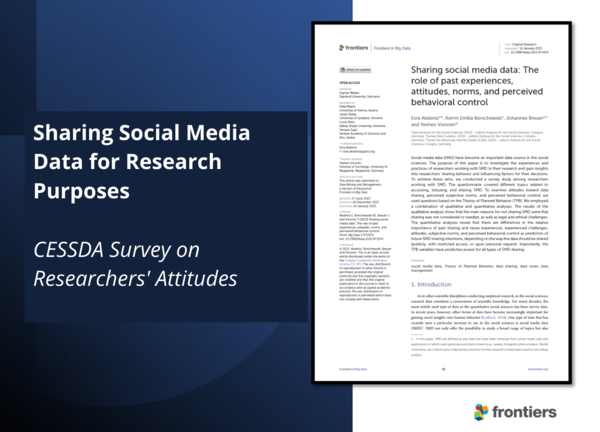 Written by Esra Akdeniz, Kerrin Borschewski, Johannes Breuer, and Yevhen Voronin, the article discusses the decisions of researchers regarding whether to share or not their SMD as well as factors that predict future sharing intentions, and how their importance differs depending on how the data should be shared (publicly, restricted access or upon personal request).
The article sheds light on the benefits and risks of scientists sharing SMD and the role of previous experiences, motivations, and data protection regulations in shaping their attitudes towards sharing.
The results highlight the importance of providing clear guidelines and support for researchers using SMD in their research. The authors recommend developing tools and infrastructures that make it easier for researchers to share their SMD with others.
CESSDA continues to support and promote research and best practices for data sharing.
The article is open access and can be accessed via: https://www.frontiersin.org/articles/10.3389/fdata.2022.971974/full
Akdeniz, Esra, Borschewski, Kerrin, Breuer, Johannes, & Voronin, Yevhen (2022). Survey - Accessing, (re)using, and sharing social media data in academia. GESIS - Leibniz-Institute for the Social Sciences. Data File Version 1.1, https://doi.org/10.7802/2418.