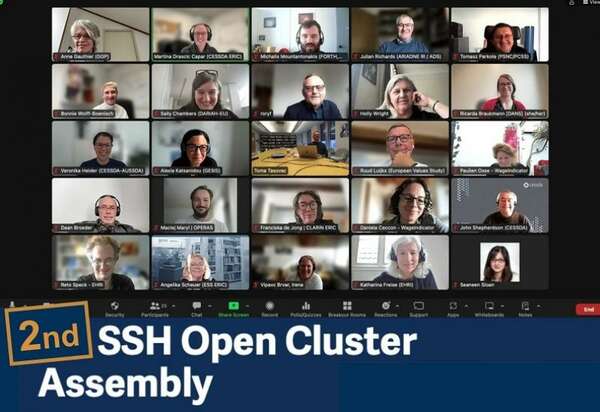 Strengthening Cross-Cluster Collaboration: Highlights from the 2nd SSH Open Cluster Assembly
Wed 25 Oct 2023
CESSDA, which holds the Vice-chair role of the SSHOC Cluster, as well as provides the Secretariat role for it, has co-organised and joint the 2nd SSHOC Cluster Assembly this year. Read more about the meeting!
Unveiling New Members, and Charting the Path for Future EC Projects
On October 16th, the virtual stage was set for the 2nd SSH Open Cluster Assembly. This gathering was dedicated to welcoming new Cluster members, reporting from external bodies in which SSHOC Cluster is represented, and discussing the future cross-cluster collaboration. Guided by the Chair Toma Tasovac from DARIAH and vice-Chair Bonnie Wolff Boenisch from CESSDA, the Assembly emphasised the paramount significance of collaboration not only within SSHOC but also in the broader research landscape.
The meeting commenced with a warm welcome to two new members, already active during the SSHOC project and vital contributions to the SSHOC community - ARIADNE and PSNC. The new members joined in 2023, enlarging the group of already social sciences and humanities actors such as GESIS, the WageIndicator Foundation, the University of York's Archaeology Data Service, DANS, FORTH, EVS and the five ESFRI Landmarks.
In his introductory remarks, the Chair, underscored the pivotal role that thematic clusters should play within the EOSC governance framework. He astutely pointed out that 2023 represented a transitional phase for the five clusters, bridging the gap between the ending cluster projects and the forthcoming O.S.C.A.R.S. project.
An introduction to the O.S.C.A.R.S project from the coordinator of the ESCAPE Cluster, Giovanni Lamanna of CRNS-LAPP and Friederike Schmidt-Tremmel from ELIXIR shone a spotlight on the importance of cross-cluster collaboration. The assembly noted that sharing information about such participation and other EU initiatives is crucial for providing opportunities to collaborate and/or influence each other's developments and results.
The next SSHOC General Assembly will take place in April 2024. Together, SSHOC members continue to shape the future of the social sciences and humanities, fostering a robust European SSH community.