HumMingBird workshop 'Voices in transit: human stories from migration routes to Europe'
Summary
This workshop, Voices in transit: human stories from migration routes to Europe, centres the lived experiences of migrant journeys. Organised by the HumMingBird project, EKKE, and Harokopio University, the workshop will focus on the rich, diverse, and often harrowing narratives of migrants, reflecting on their motivations, expectations, and experiences of mobility en route to Europe. Abstract submission deadline: 05/10/2023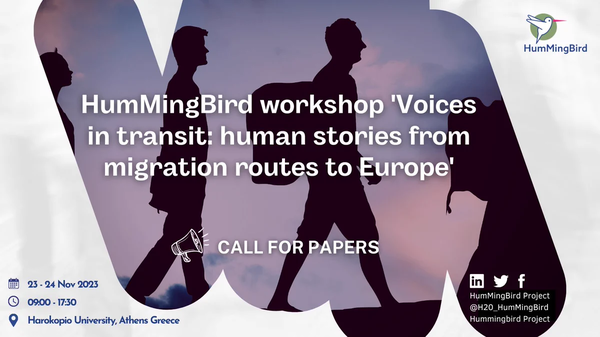 Description
Migration is an intrinsic part of human history and contemporary reality. Often a quest for a better life, mobility might also be triggered by geopolitical strife, economic instability, environmental changes, and a confluence of several socio-political factors. As a major destination for global migration, Europe has been shaped by these complex movements of people throughout time. This workshop, Voices in transit: human stories from migration routes to Europe, centres the lived experiences of these journeys. Organised by the HumMingBird project, EKKE, and Harokopio University, the workshop will focus on the rich, diverse, and often harrowing narratives of migrants, reflecting on their motivations, expectations, and experiences of mobility en route to Europe.
The goal is not only to learn from individual stories of migrants, but also to map out the migration hubs and gates of Europe, unravel complex experiences with human-smugglers, volunteers, police, and practitioners, and shed light on the role of networks that support migrants along their journey. In doing so, we aim to foster a deeper understanding of the realities of migration, contributing to more informed, dignified, and compassionate policies and practices.
We invite submissions and participation in a two-day workshop that aims to spotlight the experiences and narratives of migrants journeying toward Europe.
We welcome contributions based on qualitative empirical work from researchers, scholars, legal practitioners, policymakers, civil society organisations, and anyone interested in understanding and contributing to the narratives of migration to Europe.
Topics of Interest include, but are not limited to:
personal narratives of migration: stories of resilience, survival, and hope;
migration aspirations and decision-making from the perspectives of migrants;
migration journeys as lived experiences;
migration hubs and gates in, to and from Europe;
the lived realities of migrant-smuggler dynamics;
roles of volunteers, police, practitioners, and other stakeholders in the journey of migrants;
the role of networks in assisting migrants' journeys;
the influence of individual narratives on migration policies and practices;
ethical and practical challenges of research with refugees and irregular migrants.
Important dates
Abstract submission deadline: 05/10/2023
Notification of acceptance: 15/10/2023
Submission guidelines: abstracts should be no more than 300 words and provide a clear overview of the proposed paper's aim, methodology, and findings. Papers can be submitted via EasyChair online submission system. All papers must be original and not concurrently submitted to another journal or conference.
For further information, please visit our website or contact us at damini.purkayastha@vub.be. We look forward to receiving your contributions and thank you in advance for your interest in our workshop.
See the programme here: https://hummingbird-h2020.eu/news/event-items/HBMworkshop23112023
Event details
Start time
Thu 23 Nov 2023 09:00 CET
End time
Fri 24 Nov 2023 17:30 CET
Type
Face-to-face workshop
Organiser
HumMingBird project, EKKE, and Harokopio University
Location