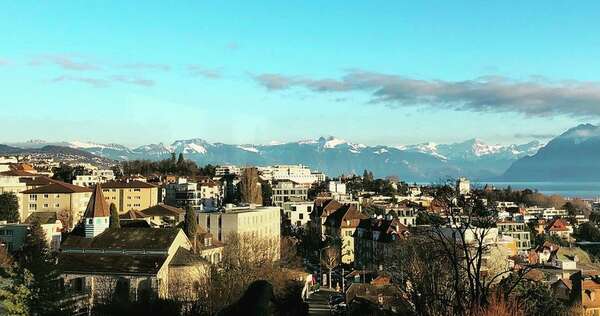 When France meets Switzerland
Tue 8 Mar 2022
Discover how the French and Swiss Service Providers operate. What services do they offer and how do they make them available and to whom?
Last December, Lorraine Adam, a staff member of the National Archive of Data from Official Statistics (ADISP) of PROGEDO, visited the DARISS teams working at FORS in Lausanne. The aim of her visit was to get a better understanding of how these two CESSDA Service Providers operate. What services do they offer and how do they make them available and to whom?
DARISS is made up of a data management support team and a team that manages the archiving and dissemination of data. The latter is called the Data archive services (DAS), which is the counterpart of PROGEDO's ADISP.
ADISP's mission is to distribute the surveys and databases produced by official statistics to the scientific community (researchers and students). It also ensures the dissemination of quantitative research data in the social sciences.
Exchanges of best practices between neighbours
This visit between Service Providers takes place in the context of strengthening the move towards open research data.
Historically, ADISP is responsible for disseminating data from official statistics. With over 20 years' experience, ADISP wanted to make this service available to researchers who wish to disseminate their quantitative data, particularly pseudonymised data.
The DARISS teams were already used to working with researchers. Lorraine Adam was particularly interested in learning about good practices and how the teams support researchers in the social sciences and humanities. For example, when it comes to sharing and anonymising data.
This visit provided an opportunity to share practices and services offered by the two institutions. There are many similarities, of course. They both follow DDI standards in their documentation, they share the FAIR data principles, and a desire for open data which guides how they work. One core difference is that DARISS supports researchers directly, whereas PROGEDO uses its university data platforms to reach researchers.
Swissubase and Quetelet-PROGEDO dissemination
Although the visit to Lausanne was affected by the COVID-19 health crisis, it did coincide with the launch of the new Swissubase portal. The portal displays 11,000 project descriptions going back to 1993, some of which include the produced data sets.
This launch happened just a few weeks ahead of the new Quetelet-PROGEDO catalogue. This new catalogue is made up of data from ADISP, the National Institute of Demographic Studies (L'Institut national d'études démographiques – Ined) and from Sciences Po Paris. This new catalogue will soon be available and harvested by the CESSDA Data Catalogue.
What do you take away from your visit to Lausanne?
Lorraine Adam said: "What left an impression on me was the support offered to researchers, particularly the guides written by the teams. These are a tool that we will also be offering in the coming months, and which will complement the field support provided by the fifteen University Data Platforms. I was made aware that the key to success is to be a partner for researchers in the process of making data open."
An article by Elodie Pétorin and translated by Eleanor Smith
More information:
More information