Switzerland (member)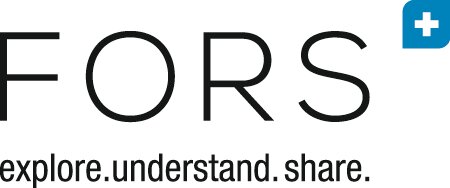 Swiss Centre of Expertise in the Social Sciences - FORS
FORS is the national centre of expertise in the social sciences. FORS enhances and supports work in the social sciences by conducting surveys and methodological research, and by providing researchers with a wealth of information and data for secondary analysis.
Its primary activities consist of:
Production of survey data, including national and international surveys.
We acquire, document, preserve and disseminate high-quality quantitative and qualitative data. We also make these data and services known and promote a research culture of data sharing and secondary analysis for the social sciences in Switzerland. Our platform SWISSUbase facilitates research data management and data archiving for all social science disciplines.
Research in empirical social sciences, with focus on survey methodology.
Consulting services for researchers in Switzerland and abroad.
FORS is supported by the Swiss National Science Foundation and the University of Lausanne.
Training
FORS offers workshops and training on areas of survey methodology, as well as on data access and data sharing. We also offer trainings on aspects of research data management, such as DMPs, informed consent, anonymisation, and data preparation.
Find out more about training on our local website.
News and events (in English)
The State Secretariat for Education, Research and Innovation
State Secretariat for Education, Research and Innovation SERI