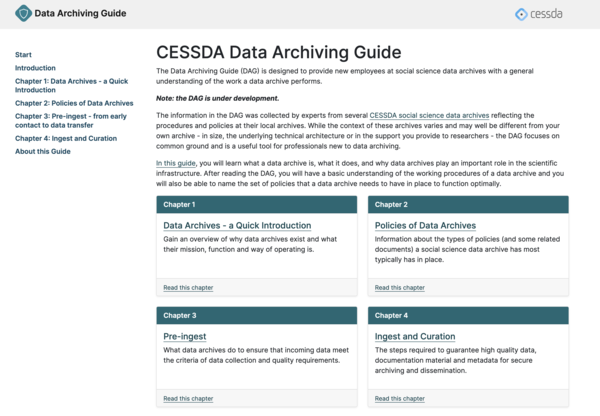 Playing and learning about FAIR Data with the Data Archiving Guide
Fri 16 Dec 2022
The CESSDA Data Archiving Guide (DAG) is a new resource developed by CESSDA. On 13 October 2022, CESSDA Training group members hosted a workshop. The main goals were to familiarise participants with the content of the DAG in a playful and hands-on way.
The full-day online workshop "Discover the Data Archiving Guide (DAG) - a training event for new(ish) staff members" was mainly targeted at new employees in data archives. It was also an opportunity for interactive exchange with speakers and participants, and give them some comments and feedback before the chapters are published.
The DAG, what is it?
The CESSDA Data Archiving Guide (DAG) is a new resource developed by CESSDA. It is designed to provide employees at data archives and repositories with an understanding of the work a data archive performs. The information in the DAG was collected by experts from CESSDA data archives. It reflects the procedures and policies in place at their local archives.
While the context of these archives varies – in size, in the underlying technical architecture, or in the specific services provided to researchers – the DAG focuses on common ground between them. It is a useful tool for professionals new to data archiving or those who are knowledgeable in one domain and who wish to broaden their expertise.
Learning through playing
The first two presentations given by Ilze Lace and Iris Butzlaff covered the chapters "Pre-ingest" and "Ingest". Afterwards, an hour was dedicated to a hands-on exercise. New employees in data archives need to learn about best practice through examples.
One conclusion from the exercise was that tools developed for less manual pre-ingest and ingest related work (checking, reading,etc.) should be shared between archives. Participants were encouraged to work together in groups of three to four people. They looked at concrete questions and everyday issues. They shared their experiences at addressing these at their specific archive.
The issues were specifically selected to allow different points of views and included various aspects of Acquisition, Pre-Ingest and Ingest activities. After the group work, one speaker per group presented the results, followed by further discussion of the topic.
Table 1: Example of group work activities
Pre-Ingest

What seems useful? What seems less applicable? What is missing?

Case A: Working with data depositors and research communities?

Case B: Developing routines for better quality data?
(Focus on data types you are now working with – examples might be survey data; qualitative interview data; audio & video data; archeological data; big data; sensitive data or any other type of data.)

Case C: Organising and structuring Pre-ingest activities?
(Focus on processes like data submission, review and appraisal, communication with researchers or other.)

Ingest

Case A: You receive a request to archive data that was collected about 30 years ago. This is a mixed-method project with qualitative and quantitative data, longitudinal, sensitive topic (addictive behaviour). Initially, it was not intended to release the data for secondary research. What kind of questions are you asking and why? What kind of problems might arise?

Case B: You receive a request to archive ethnological data (life histories). The data is qualitative, the people involved are no longer accessible, and there are language and cultural barriers for communication. What kind of questions do you ask and why? What kind of problems might arise?

Case C: You receive a request to archive sound data. What kind of questions do you ask and why? What kind of problems might arise?
Figure 1: Jamboard for "Ingest, case C"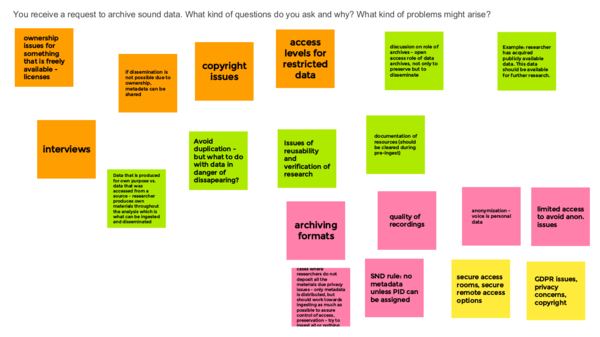 A tool for making data FAIR
The main session in the afternoon focused on the new FAIR chapter, which is not yet online. The goal was to pilot some contents and tools. The aim was to help participants know how to apply their new knowledge in a practical way.
The presentation given by Kim Ferguson and Maaike Verburg was very interactive and allowed everybody to get a feeling for FAIR(ness). The Dutch Service Provider DANS presented FAIR-Aware, an online self-assessment for anyone working with data to evaluate and expand their current knowledge on the FAIR data principles.
The assessment consists of ten simple questions covering different FAIR practices that can be applied to data and accompanied by guidance texts to help users.
FAIR-Aware is aimed at researchers and data stewards, but anyone working with data can benefit from using this tool to evaluate their knowledge. For archival staff, investigating the tool can broaden their understanding of what researchers and data stewards are looking for when they deposit their data. It can help them make sure that their archive makes that information easily findable for researchers.
Participants were asked to consider what their own archive does to meet certain requirements and expectations when it comes to making and keeping data FAIR. The FAIR-Aware tool is included in the first section of the new FAIR chapter, which introduces the FAIR principles to the reader. Other sections cover the ways in which archives can embed, promote, and communicate FAIR data qualities, as well as the concept of trustworthiness and information on how archives can display these qualities.
The importance of communication
Archivists face many different challenges and new archivists do not only need to learn tools and techniques. While concrete rules with workflow are important, so is early and encouraging communication with data producers and researchers. Data sharing is a question of trustworthiness and fairness. Archives and even more importantly, data stewards and archivists, are key to the data-sharing culture.
What's more, not many people are data archivists. This makes the exchange among colleagues all the more important. Data archivists can learn a lot from each other, especially with regard to new challenges and concrete problems. We can (and must) work out solutions together and exchange ideas on what works best. Concrete tools that exist should be made available to other experts outside of the data archive. Knowledge on how to use them should also be shared.
The DAG is a valuable tool for new archivists, but the most valuable part of the workshop was no doubt engaging with concrete examples, "horror stories" and best practices from archivists from different archives. It pays to invest time in game development and for an online workshop, participants were atypically engaged. Learning experiences should be entertaining.
The FAIR chapter will be added to the DAG by the end of the year and a leaflet will be prepared, as well as some illustrations for all chapters.
More information:
More information