Finland (member)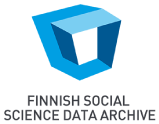 Finnish Social Science Data Archive - FSD
The Finnish Social Science Data Archive (FSD) is a national resource centre providing a single point of access to a wide range of digital research data for learning, teaching and research purposes. The FSD promotes open access to research data as well as transparency, accumulation and efficient reuse of scientific research and is the first organisation in Finland to have been awarded the Data Seal of Approval (DSA).
FSD is a separate unit in the University of Tampere and is also financially supported by the Academy of Finland through project funding to research infrastructures.
Training
FSD provides training and presentations on data reuse, data management, long-term preservation, and other FSD services. For example, training can be requested for researcher workshops and research method courses for students. The content can be tailored to meet organisers' requests.
News (in English)
News (in Finnish)
News (in Swedish)
New data sources (English descriptions)
New data sources (Finnish descriptions)
FSD translates quantitative data on request into English (metadata is always translated) free of charge.
FSD's Data Management Guidelines provide practical advice and instructions on managing digital research data at different stages of the data life cycle. The Guidelines contain up-to-date information on matters related to agreements, rights, informing research participants, and anonymisation of data, among others.
Blog (in Finnish)
Ministry of Education and Research
Opetus- ja kulttuuriministeriö
Undervisnings- och kulturministeriet
News (in English)
Academy of Finland
News (in English)