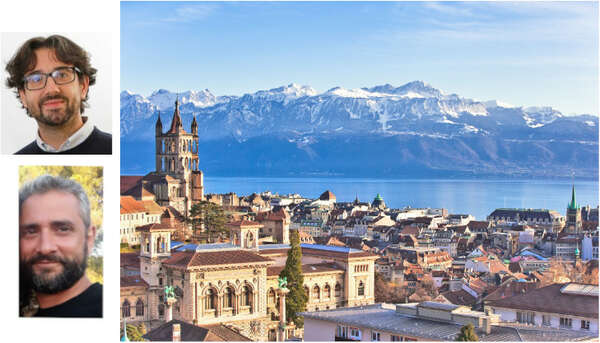 DASSI's visit to FORS: Exchange of best practices between neighbours
Mon 24 Oct 2022
From 20 to 22 September 2022, Carlo Pisano and Domingo Scisci from DASSI, the Italian data archive for social sciences and CESSDA service provider, visited FORS, their Swiss counterparts. The visit took place through the CESSDA Mentorship Programme.
In Lausanne, Carlo and Domingo first presented DASSI, which was created in 2021. DASSI benefited from the seven years of experience of UniData. They met with various staff members at FORS, from the data archive to IT and management. Such exchanges tend to reveal more similarities than differences between the institutions' practices, issues, and envisioned developments. In this article, Carlo and Domingo share their feedback on their visit.
What do you take away from your visit to Lausanne?
Carlo: Our visit to FORS in Lausanne was very useful because it allowed us to meet a well-structured social science data archive, well established in the national and European landscape. Since we are in a start-up phase, the visit allowed us to clarify some of our next steps. We gathered useful inputs, such as the importance of collaborating with a range of different stakeholders and planning an appropriate outreach strategy. We also received technical advice, for example, with respect to data storage systems.

Domingo: It is always helpful to meet people who do the same work as you do. Despite the differences between the two national contexts, many of the challenges we face are similar. Discussing them together allowed us to identify new possible solutions.
What important knowledge have you gained during your visit?
Carlo: Our discussions with FORS staff allowed us to become more aware of the importance of two main aspects: communication and relationships. On the one hand, we learnt that it is essential to plan a good and effective promotional strategy for the services we want to offer. This will help us to be known in Italy and make researchers aware of this new infrastructure. On the other hand, we realised the need to create partnerships with many other actors that are already operating in Italy. Both those who are increasingly promoting open science, and the universities, which in recent years have created their own institutional repositories. Our visit to Lausanne allowed us to realise that these aspects represent the two main challenges that DASSI will face in the future and helped us to understand how best to deal with them.

Domingo: We also received some very good advice on how to deal with some technical issues that have been arising during the development of our study management platform. The same applies to other more specific issues, e.g. ingest procedures, data and metadata management, and file distribution to the end user.
Did anything particularly astonish you?
Carlo: I was astonished by some unexpected similarities with the Italian context. For example, FORS also has difficulties in cooperating with the national institute of statistics. The visit to Lausanne enabled us to learn a lot about how to deal with such issues.

Domingo: I agree with Carlo, what particularly struck me were the similarities with our own experience. It was heartening to see that we had adopted similar solutions (e.g. in dataset management). I got the feeling that we were on the right track.
Will you implement something that you have seen at FORS?
Carlo: Our data curation and archiving procedures are already quite similar to those of FORS. We will rather try to implement the advice and insights that we received regarding outreach and promotion, internal organisation and potential collaboration with strategic stakeholders (e.g. Italian universities).

Domingo: It was also very interesting to learn about how files were managed within the archive. This is a topic we have discussed a lot here in DASSI, and the strategy used by FORS could be successful in our case as well.
What are the most important similarities and differences between both institutions?
Carlo: In my opinion, the main difference between DASSI and FORS is the national research context and, in particular, the fact that Swiss researchers are required to archive and share their research data. In Italy, this recommendation is lacking, so a lot of work needs to be done to raise awareness among researchers, stressing the opportunities of data archiving. DASSI should become a national reference point for the deposit of social science data and supporting data reuse.

Domingo: I was very impressed by the presence of a clear division of tasks and activities among the various work units. Everyone works together for the smooth operation of the archive. Such a division has always been unthinkable for us because of our small size, but we have to think "nationally" now. It is therefore necessary to start identifying precise roles for all the relevant activities.
What type of collaboration do you see in the future between DASSI and FORS ?
Domingo: Personally, I would love to collaborate on implementing data management tools. It's a topic that I'm particularly interested in, and I think it's a great area for collaboration between archives.

Carlo: The development of new data management tools is certainly an excellent area of collaboration for me as well. More generally, it would be nice to collaborate on the development of data curation models and procedures to find effective solutions to common problems. For example, the archiving of qualitative data or the creation of a question bank.
What would you do if you were to visit FORS next year?
Domingo: I would like to put in place what we have learnt during the visit and come back to FORS to report on the progress we have made. And, of course, I would like to eat fondue again!

Carlo: I agree with Domingo! I would also like to discuss the new challenges that archives will face in the near future, for example the archiving of social media data.
What are DASSI's main envisioned developments for the next months and year?
Carlo: To date, DASSI has defined its archiving policies and data curation procedures, and we are finalising the implementation of the technical infrastructure in order to be operational by the end of 2022. From early 2023 it will be possible to deposit data at DASSI and make it accessible to all users in compliance with the FAIR data principles. The next step will be to work towards international CoreTrustSeal certification and become a trusted repository for the whole Italian community.

Domingo: In a more general perspective, our goal in the medium term is to make ourselves known and to make our work known, to win the trust of researchers, and to offer useful services to our target community. It will not be an easy job, but we are up to the task!
More information